yoyo!! my 7 weeks of life have been like a boat.. without direction.. now everything must change!! After the hmv with Mabel, i think i need to do things & look at things differently le.. she pointed out that i seemed lost.. also because i hasn't been showing actual proof.. how can i fail to show actual proof if i'm practising correctly?? and also because i was very tired.. low lifeforce, low life condition.. how to carry on laidat??? & also i was often attending mtg for the sake of attending..

she encourage me.. by being veri straightforward with me.. thanks Mabel!! she told me tt i muz chant vEri focus to the gohonzon.. & she also asked me to ponder about why should i carry on practising this Buddhism? even though there can be theoreotically correct answer like "oh.. because this Buddhism is great, Sensei is great, blah blah blah blah..." But once we have a answer or a reason tt belongs to ourself, this will become our primepoint in faith and in live.. she also asked me.. what is kosen-rufu to you? who is sensei? do u think u feel for sensei? seriously, i dunno.. if u ask me the answer from the boOk, kosen-rufu means to achieve human happiness.. even though i've been doin so many things, being so active, all these becomes nothing when i myself do not achieve human revolution and do not become happy.. why? because, i do not show that practising this Buddhism can change my life for the better!!

i ponder for awhile.. though unwilling to admit, but yes.. i feel tt way too.. many times i prayed tt "Gohonzon, i muz do my human revolution ar.. blah blah blah.." but Mabel pointed out one impt pt.. tt is, prayers muz go with actions too.. sometimes ar.. i juz feel so.. in chinese we say " li bu chong xin" means our actions goes against wat we feel.. juz like i'm doin opp from wat i preach la..

many thoughts.. i muz really chant veri hard..


*****
today went for SNCO band prac.. everytime i go sure slp on train.. cuz feel vEri tired.. @ boon lay lei!! but so happy to see many many pple.. & yilian came today!! aft so long~~ i was really happy to see all of them even though i dun really know them.. =D
shini share with us about this person : Yehudi Menuhin.
he was a renowned violinist, a child prodigy and he has even met Albert Einstein before!! he met sensei in 1992, when he was 75 yrs old.. he was a great man.. to know more about him,
i think his thinkin is really like tt of a Buddha.. he loves his people and is especially particular about Eduation. his encounter with sensei is publish in the boOk "Wonderful Encounter." can get it from SSA sales department! (haha.. doin promotion) it looks like this :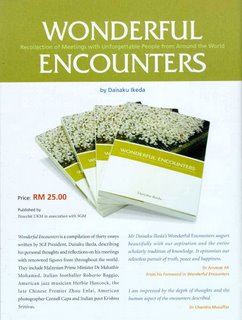 if u dun have, pls get a copy kk? only $15 bucks of good fortune n wisdom!! and if u have it but hidden somewher, pls dun let it be hidden forever.. =) tts all folks!! (^-*)